Moose hunting - beautiful colours in the forest and exiting hunting on the king of the forest.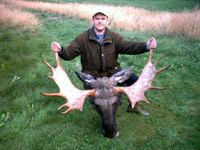 We can offer you a unique opportunity to participate in traditional Swedish moose hunting with dog.
We hunt moose with dog in forests close to the mountains. You take turns in watch outs for moose and follow the guide with dog. You get big opportunities to shoot moose from the watch out and when the dog is barking at the moose.
So if you're lucky you can get the moose of your dreams!
We have approximately 50 000 hectare of hunting-grounds divided in many different places in Sweden, so we have the best opportunities to offer good moose hunting.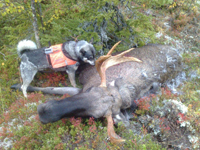 Hunting period: From the first Monday in September to the January 31. The moose hunting is divided into two hunting periods with a short stop in the end of September and the beginning of October.
Welcome to contact us for more information!