Bear hunting in the middle of Sweden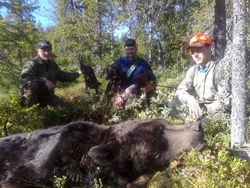 Welcome to attend the next years bear hunting!

Our huntingground is located in the area Härjedalen in the middle of Sweden who have one of the largest population of bears in Sweden.
We use special huntingdogs from America which are breed for hunting predators.

And the hunt will take place along with some of Sweden's most experienced bear hunters / guides, so there is greater potential for a successful hunt.

In our price: 3700SEK /pers/dag included bear hunting including housing with private kitchen, shower and toilet.
Optional: Extra daily living 250kr/pers

Our organized bear hunting going on 21-22/8 2011
Arrival on 20 / 8 and departure 23 / 8.
Limited places available so first come first served!

Hunting season for bears in Sweden lasts from 21 / 8 until 15/10 or to the license is filled.