Grouse hunting in the woodland - a very thrilling hunt with an old history.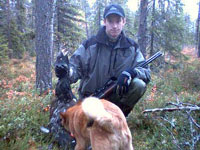 Hunting black grouse and great grouse is fun and exciting. In the forests close to the mountains we've a lot of birds and we hunt with standing dog/setter or barking bird dog/Finnish spitz. That's two very effective ways of hunting with good opportunities to shoot.
In order to increase your opportunities of shooting we combine the hunting by dog with hunting for playing black grouse from our hideouts.
Best hunting period: 25/8-31/1, 16/11-31/1 only great grouse/blackcock.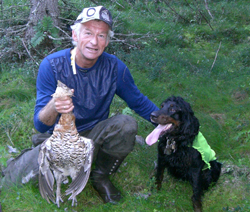 Grouse hunting with your own dog
We have many hunting grounds were we can offer you to hunt yourself with your own dog. We also have hunting grounds we rent out for whole weeks were our guests get exclusive hunting during their stay.
Welcome to contact us for more information!
Bird hunting
For our grouse hunting we've total approximately 50.000 hectare private area in various natures.

For our grouse hunting's we can leave almost 100 percent guarantee of getting an opportunity to shoot.