Beaver hunting - when nature changes from winter to spring in April/May.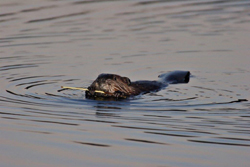 Beaver hunting is an exciting and restful hunt and it is done as a sneak- and watch hunting during early mornings and late evenings. Our experienced guides know exactly where the beaver usually are.

We have a lot of beavers in our hunting-grounds so we have the requirements for an unforgettable hunting experience.
Best hunting period:
The two last weeks in April and the two first weeks in May.