Winter angling on ice-covered lake - A comfortably and peaceful way of fishing for the whole family.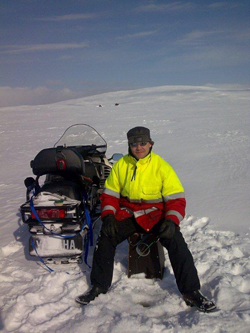 The true highlight during a sunny winter day is to be on an ice-covered lake up in the mountains sitting on a reindeer fell with a small fishing-rod in your hand and feel the calm and quietness in the Swedish wilderness!
Most of the time are we travelling to the fishing-grounds by snowmobiles, a good opportunity to experience the beautiful nature.
Lie down on the ice watching through the drilled hole in the ice on shallow places is an exciting experience that gives the winter fishing an extra touch.
We make coffee over open fire and feel the fresh mountain air.
Best period: Winter fishing on ice-covered lake is good both during the early winter in December and during February-April. We can offer excellent winter fishing for char, salmon trout, perch, whitefish, and grayling.